Fall 2023 NFO Schedule
Wednesday, August 16 – Thursday, August 17, 2023
Wednesday, August 16, 2023
Time
Events
1:00 pm–1:30 pm
Kuykendall 106 Events Room
Check-in
Hoʻolauna: Coming Together, Making Introductions
Kathie Kane & Hazel Gedikli, Office of Faculty Development and Academic Support (OFDAS)
1:30 pm–2:00 pm
Hawaiʻi Institute of Geophysics 110
Welcome to Mānoa: Greetings from Academic Excellence
Laura E. Lyons, Interim Vice Provost for Academic Excellence
2:00 pm–3:00 pm
Starting Out and Staying Balanced! A Panel of Experienced Faculty—Perspectives on teaching & learning from various disciplines
Amy Fuller, Chemistry
Ehito Kimura, Political Science
Monica LaBriola, History
Miyoko Pettit-Toledo, William S. Richardson School of Law
Kiana Shiroma, Pre-Health/Pre-Law Advising Center
Calib Reichhardt, Human Nutrition, Food and Animal Science
Moderator: Kathie Kane, OFDAS
3:00 pm–3:15 pm
Break
3:15 pm–4:00 pm
Teaching, Research and Service at Mānoa: A Conversation with the Provost
Michael Bruno, Provost
4:00 pm
Closing
Kathie Kane, OFDAS
---
Provost's Reception for New Faculty
College Hill
Wednesday, August 16
4:30–6:00 pm
Meet Mānoa administrators, deans, department chairs, and new faculty. New faculty may bring a guest.
A formal e-invitation will be emailed to new faculty. Please view your e-invitation to RSVP.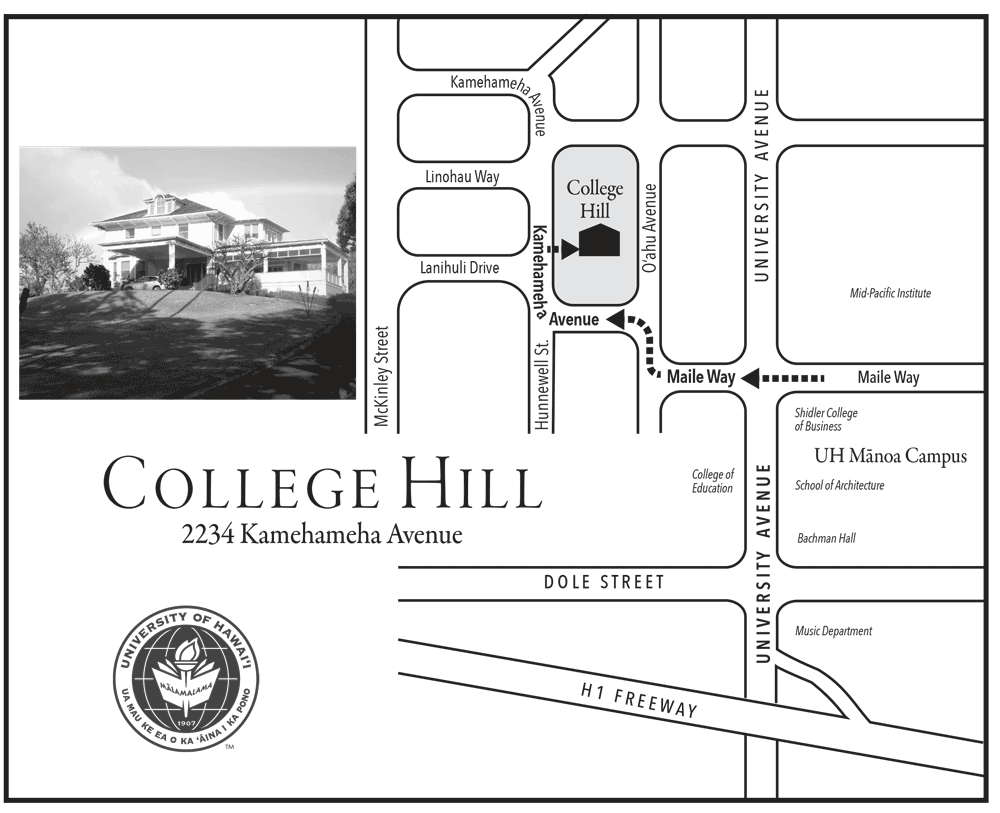 ---
Thursday, August 17, 2023
Time
Events
9:30 am–10:00 am
Kuykendall 106 Events Room
Check-in
Morning Hui
Kathie Kane, Director, Office of Faculty Development & Academic Support
Hazel Gedikli, Faculty Specialist, Center for Teaching Excellence
10:00 am–11:00 am
Kuykendall Pavillion
Welina Mānoa: Chanting and Connecting to Stories of this Place, of Oneself, and Others
Kaiwipunikauikawēkiu Punihei Lipe, Native Hawaiian Affairs Program Officer, Office of the President
Kamakani Albano, Makanalani Gomes, and Kawehionālani Goto, Native Hawaiian Advancement Placement Office
11:00 am–12:15 pm
Campus Center 309-310
UHPA Sponsored Luncheon & Presentation on Collective Bargaining & Contract Issues
Christian L. Fern, UHPA Executive Director
Erik Guentner, UHPA Board Director
James Kardash, UHPA Associate Executive Director
Daniel Port, UHPA Board Director
Sarita Rai, UHPA Board Director
Manfred Steger, UHPA Board Director
Rovena Varde, UHPA Technical Specialist
12:15 pm–12:30 pm
Faculty Senate: Faculty Governance and How You Can Get Involved
Erin Centeio, Kinesiology and Rehabilitation Science, SEC Chair
12:30 pm–1:00 pm
Research & Scholarship: Introduction to OVPRS Services & Support
Chad Walton, Interim Assistant Vice Provost, Office of Vice Provost for Research & Scholarship
Anna Babakhanyan, Research Program Officer, Office of Vice Provost for Research & Scholarship
1:00 pm–1:15 pm
Beverage Break
1:15 pm–1:45 pm
Faculty Rights and Responsibilities
Teresa Kono, Interim Program Officer, Office of Faculty Excellence—Academic Personnel
1:45 pm–2:15 pm
Contract Renewal, Promotion, and Tenure
Paul McKimmy, Interim Associate Vice Provost for Academic Excellence
2:15 pm–2:45 pm
For Faculty, By Faculty @ OFDAS

CTE Professional Development Programs & Teaching Evaluations
Hazel Gedikli, Center for Teaching Excellence

CTE Innovative Classrooms
Kathie Kane, Center for Teaching Excellence

OFDAS Graphics Design Support
Mark Nakamura & Marween Yagin, Graphics

Faculty Mentoring Program
Kathie Kane, Director
Contact us if you have any questions or concerns.